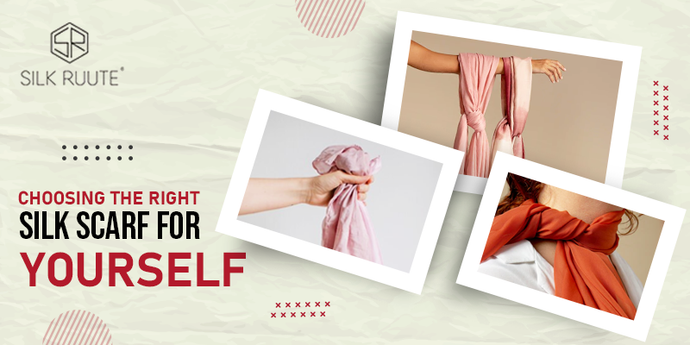 Scarves Can Never Go Out of Fashion. Here's Why!
If we talk about layering, there is hardly anyone who would fail to mention stoles. Aren't these just the perfect accessory to elevate your fashion game and enhance your appearance a notch every time you pair a stole with your casuals? Stoles have a natural ability to accentuate your appearance, and with their versatility, you can pair them up with almost every outfit, and it will still make you stand out from the crowd. 
Scarves and stoles, which are typically wrapped loosely over the neck or the shoulders, are ideal for people who enjoy layering their clothing. When you need an outfit change right away, a stole can instantly make your appearance more charming and become your closest friend. It's no surprise that stoles and scarves are at the top of a fashion stylist's list!
Coming back to understanding why stoles and scarves will never go out of fashion. It is not just the versatility of these accessories but several other reasons which makes them gain the popularity they are enjoying today. Let us uncover each one in the following section: 
A perfect partner for every weather 
One thing about stoles and scarves is that they aren't just suitable for a particular climate or season. You can layer a stole in summer and winter alike. You can pair a scarf in the monsoon as well as in spring. The trans-seasonal nature of these accessories is what makes them a perfect wardrobe addition. Buy silk stoles online in India and make your wardrobe stand out from the rest. 
Suitable for all Body Types 
This is hands down the best thing about stoles and scarves. Whether you are a fascinatingly skinny person or a majestically plus-size person, a scarf or a stole doesn't differentiate. It will suit you just like magic. There is no way that a scarf or a stole will make you look unappealing or tacky. Instead, it can elevate your fashion game in just a few seconds. Try different styles of wrapping these accessories and get ready to gather compliments like never before. The key is to be confident in whatever you wear. These accessories are just an addition to your appearance. 
Easier to carry 
If you touch a scarf or a stole, you will first notice how lightweight it is. Drape a scarf or stole around your neck, and you will feel that it will not add any weight to your overall outfit but will just accentuate your look. You can rest assured that adding a stole or scarf to your outfit will make your outfit appealing without adding tackiness to your overall appearance. So, you get comfort and style by just adding one accessory to your outfit. Isn't that a win-win situation? It definitely is!
Silk Ruute is here with a range of gorgeous silk scarves and stoles. If you wish to buy silk stoles online in India, browse our new collection and give your wardrobe a makeover!
Similar Blog: Cultivating the Queen of Fabrics – Silk: Sericulture & More!