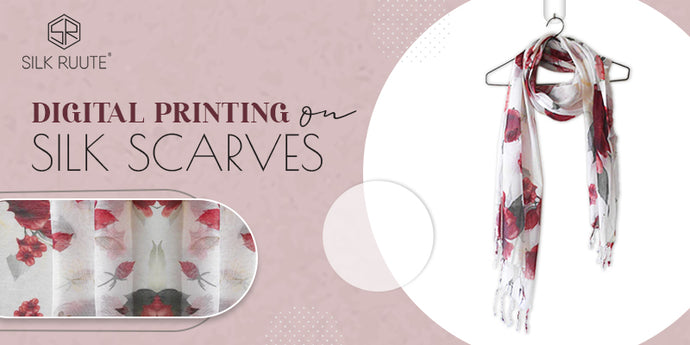 Digital Printing on Silk Scarves
Silk, a chic yet classic fabric, has been in vogue since time immemorial and is a favorite for almost everyone alike. You would have seen, at times, the gorgeous silk scarves around the luscious hair of women; isn't that a pretty sight?
It would not be wrong to say that celebrities, influencers, and commoners are all inclined toward this elegant accessory. After all, it is one of the very few things that can accentuate your overall look without adding any weight to your outfit and not being tacky at all.
Today, we have a variety of silk scarves which are doing the rounds, and one of the most popular is the printed ones. While plain silk scarves have a charm of their own, you can find several collections of digital print silk scarves online that have emerged popular due to their intricate designs and patterns.
If you also have had an inclination toward digital silk scarves, this blog is curated for you. Let us find out what digital printing is on silks and what are some of the benefits of digital printing.
What exactly is Digital Printing?
Digital Printing is one of the methods to create intricate patterns on pieces of silk. It is one of the most widely preferred silk printing techniques used by manufacturers and artists to realise their designs. Since its invention, digital printing has grown to be the method of choice for businesses that want to produce one-of-a-kind designs. It also gives the artists and manufacturers the freedom to create exquisite and stunning designs on royal silk fabric.
What are the steps of digital printing on silk scarves?
There are four main stages that are involved when silk scarves are digitally printed. These stages are:

Designing

Pre-treatment

Printing

Finishing
Each step is executed with utter care and precision so that the outcome is beautiful, classic and flawless.
One must understand that digital printing is different from screen printing. Screen printing has been more common traditionally.

While it still remains to be a favorite of some manufacturers and designers, the recent few years have observed the emergence of digital printing. This is because there is a lesser number of stages involved in digital printing, which makes the work less strenuous or labor some. Apart from being convenient and quicker, there are other benefits too that grace digital printing techniques and those are:

More detailing and intricacy

Easier processes

Handle more orders in a short time
Buy Digital Print Silk Scarf Online at Silk Route
Silk Route takes pride in being one of the leading silk brands offering exquisite scarves and stoles made out of pure silk. Even if you wish to buy silk blend scarves, Silk Route is your destination. Get your hands on our latest collection of pure silk and blended stoles and scarves right away.