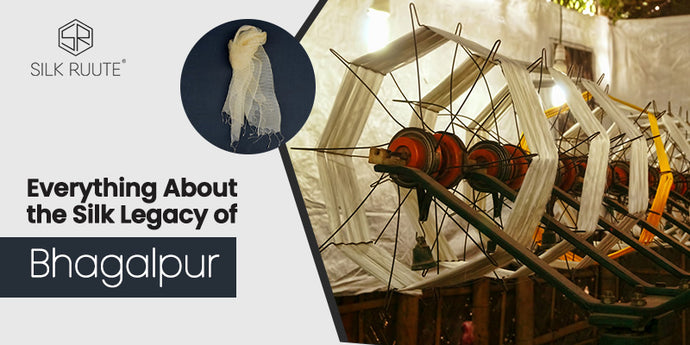 Everything About the Silk Legacy of Bhagalpur
Legend has it that the origin of silk goes back to China, but you'd be surprised to know that India is the second largest producer of silk in the world. India has a rich, sophisticated history of silk production, and it has been involved in the silk trade since the fifteenth century. In this blog, we will learn about the Silk City of India. Do you know which city it is? Another hint – It has a history of silk production for over 200 years! If you still don't know, the answer to this is Bhagalpur. 
Bhagalpur is one of the oldest silk-producing cities in the country, and not just in India, it has been renowned across the world for its silk industry. The city is famous for sericulture, silk manufacturing and transforming silk into exquisite products. 
A long-standing traditional household business in Bhagalpur is silk weaving. The Weavers Service Centre was founded in Bhagalpur, Bihar, in 1974 in order to improve the handloom silk industry. Only second to Karnataka, the Bhagalpur cluster produces and exports the most silk fabric. In the international markets, Bhagalpur silk home décor products are also gaining great popularity. In recent years, you might have also found out the emerging popularity of Bhagalpuri silk stole for women. 
The Bhagalpur Silk Cluster 
The Bhagalpur cluster is renowned for its silk-based clothing, sarees, scarves, stoles, and other household goods. Sericulture is used to create a yarn that is then woven into various patterns. The silk produced in this cluster stands out from other silk in its distinctive motifs, patterns, and character. The handloom industry in Bhagalpur makes a whopping 2 million meters of silk every year. The Bhagalpur Silk cluster is divided into seven parts: 
Champa Nagar 

Purani 

Hussainabad

Aliganj 

Kharik Bazaar 

Nathnagar 

Ambabaug 
Nathnagar is well-connected to Patna and Kolkata, which makes it easily accessible to the rest part of the country as well. Here, many households are involved in weaving activities, some using power looms and others using handlooms. Although there are a lot of looms in the cluster, they are all still operational based on the orders received. At any given point, around 300-400 looms are said to be functioning. 
The weavers of this cluster produce a wide range of products, such as the renowned silk chaddar of Bhagalpur to Tussar silk fabrics, dhoti, stoles, scarves, etc. It is not just the Nathnagar cluster but also the Champa Nagar cluster and Kharik Bazaar cluster where varying types of yarns are in use. 
Have a look at the cluster initiatives for welfare and growth: 
to increase the weavers' income and standard of living

Activities that are scheduled to take place in the cluster

creating a vibrant online presence

establishing a powerful marketing consortium and training workshop promoting and developing new products

introducing new compensation plans to motivate the weavers

Offer the weavers raw materials at discounted prices.

cluster promotion and advertising to establish a global presence
Silk Ruute is one of the leading brands from Bhagalpur, Bihar, that take pride in introducing silk products that have not been introduced in the Indian market ever before. The company has an exquisite collection of dyed and printed silk stoles. They also cater for a range of cotton-blended silk stoles. Now you know where you can buy pure silk stoles for women! Visit our collection to find elegant stoles and scarves.