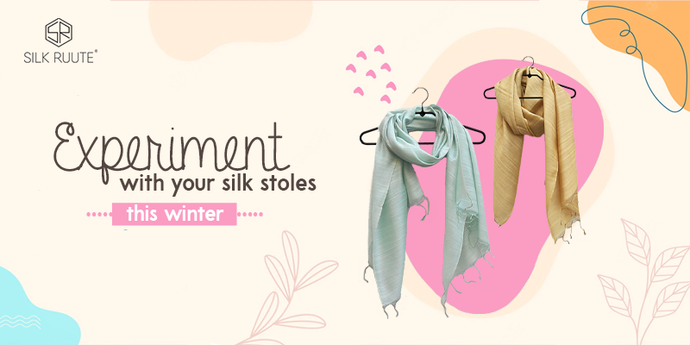 Experiment with your Silk Stoles this Winter
Winters are just around the corner, and with winter comes the need for extra warmth. Layering clothes can work wonders for you if you are looking for that extra ounce of warmth in the chilling winters. Well, for layering, what can be better than silk stoles? Silk stoles have been an extraordinary accessory to accentuate any outfit.
Not just women but men have also been sporting stoles in varying styles. Silk stole is a great way of subtly enhancing your outfit while making your outfit look trendier and aesthetically pleasing.
Are you ready to elevate your style game with silk stoles? Here are some draping styles which can add a special charm to your complete outfit.
Single Loop Style
For this look, you must first drape the stole around your neck before looping it once. Normally, while you're dressed in denim and t-shirts, you can drape your stole in a single loop method.

Eight Loop Style
You should try the eight-loop style if you enjoy wearing shorter dresses. In order to drape the entire stole, you only need to tie the two ends together and loop them around your neck.

Western-Style Loop
The western-style loop is quite well-liked by both sexes. You must loop the stole over your neck in a western fashion if you want to give yourself a layered appearance. Simply fold the stole in half, and then create a loop to hang it over your neck. To create a streamlined design, simply bring the loose end through the loop and bring it out.

How Can Silk Stoles Make You Look Stylish?

Silk stoles have the power to spice up any outfit. If you are a fan of plain outfits, silk stoles can be your best friend. Pairing up your plain outfits with printed silk stoles can be your best bet this festive and Winter season.
Similar Blog: Bhagalpuri Silk: and why you should wear them 

A stole is an ideal piece of clothing that can elegantly conceal any imperfections. You can set yourself free by just wrapping the stole up around your neck and shoulders. Not just casual wear, stoles are said to accentuate formal wear as well.

Wear a fashionable stole with your clothes to fascinate everyone with your appearance if you're unsure how to make a style statement in business meetings or formal gatherings. Buy silk stoles online in India to bring style and elegance to your daily wear.
Buy Trendy Silk Stoles from Silk Ruute
Silk Ruute can be your favourite wardrobe partner if you wish to elevate your fashion game. We are the leading brand in the market, extending a wide collection of silk stoles and scarves.
In the store, we also have blended silk scarves and Tussar silk scarves. Get access to our beautiful collection of silk stoles and scarves online. Visit our website to explore our magnificent collection and buy silk stoles online in India.