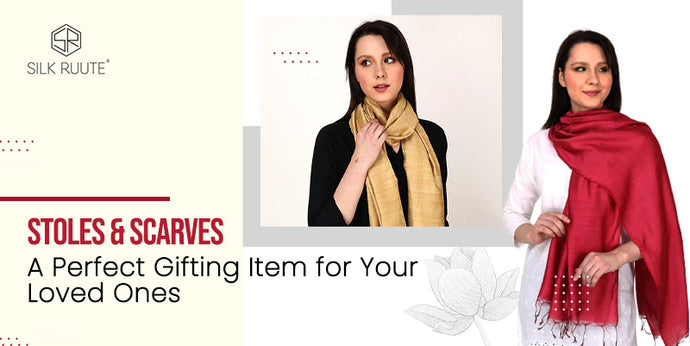 Stoles and Scarves – A Perfect Gifting Item for Your Loved Ones
Is there anything that can be more versatile than a scarf and a stole? Around the head, multiple knots, or tying in the turban style, you name it, and you can style it with stoles and scarves. There are just so many styles and ways with which you can accentuate your overall look and appeal. Besides being a great addition to your wardrobe, silk stoles and scarves can be a perfect gifting item as well. There are several reasons which make silk stoles and scarves an ideal gift for just about anybody and everybody. Have a look at why you should buy dyed stoles online in India and gift them to your loved ones. 
Perfect for People Who are Hard to Buy For. 
We all know someone who always replies a "Nothing" to our "what should I gift you?" question. They just seem to have everything, and more than that, they are quite tough to convince when it comes to gifting them something. But if you still wish to give something meaningful to such a friend and loved one, a silk stole can be your best bet. Not only will it be a great addition to their wardrobe, but it will come up as a great token of love to someone who doesn't want "anything". 
One size fits all 
This has got to be the best thing about scarves and stoles. These are perfect for all body types, genders, and ages. Being unsized, this turns out to be a perfect gifting item for almost everybody. Whether it is wrapped around the neck or upon the head, the shoulders or the waist, this accessory does fit everyone, making it a suitable gift for everyone. 
A Gift that Lasts 
Silk is renowned for its quality and beauty. While it is extremely elegant and royal, the one thing that makes it stand out from other fabrics is its durability and longevity. Gifting anything made out of silk is a great choice as you are giving something that will be cherished for a really long time.  
Easier to Wrap and Post 
Once packed or wrapped, a scarf or stole is both cheap and convenient to post. All you need to do is pack it properly and post it. Being letterbox friendly, you don't even have to think twice about the safety of your gift. Isn't that cool?
To gift your loved ones, buy dyed stoles online in India from Silk Ruute. We have an extraordinary collection of silk stoles and scarves, which can eventually turn out to be a perfect gifting item. Browse our store to find the one that suits your needs the most.
Similar Blog: Cultivating the Queen of Fabrics – Silk: Sericulture & More!