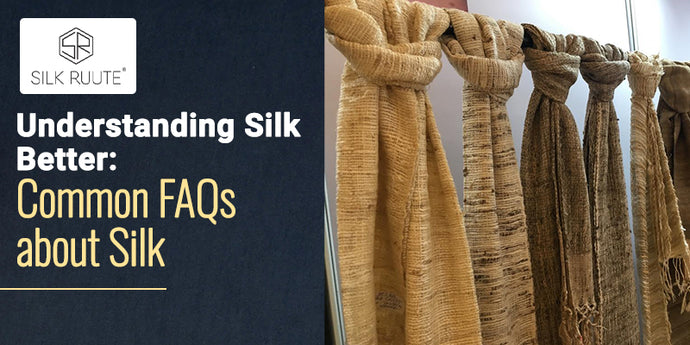 Understanding Silk Better: Common FAQs about Silk
Silk has been revered as one of the most luxurious fibers for the longest time. Due to its richness and elegance, it has always been a symbol of class and royalty. Its fibers are known for their natural luster, strength, shine and durability. Being soft textured and sophisticated in appearance, silk is one of the most highly demanded fabrics in the fashion industry. 
If you aren't aware of the origin of silk, it is China where silk originated. While China dominated the silk industry for multiple decades, it travelled to the world and is now available in many regions worldwide.  
Silks come in varying types, including Spider Silk, Tussar Silk, and Indian Muga Silk. Mulberry Silk is the most popular kind of silk, nonetheless. This silk fiber is removed from its cocoon by brushing it, and it is then sewn, stitched, or spun into yarn or cloth. The Bombyx Mori Moth produces silkworms, fed just mulberry leaves as a sole source of nutrition.
If you wish to buy handcrafted pure silk stoles but don't have the right knowledge about it, here's a blog that can help you. To understand silk better, here are some common FAQs that people readily ask about it. If you want to learn more about silk, dive here: 
Is Silk a Delicate Fabric?
Indeed, Silk is one of the most delicate fabrics to exist. In comparison to other fabrics such as cotton, which is incredibly forgiving to fabric care, silk is extremely susceptible to stain. It can also get damaged by extreme heat and light. But here's a surprising fact for you. Even though silk is delicate in nature, it is immensely strong. 
What are some properties of this textile?
Silk is extremely soft textured and has an incredible sheen. You should also know that it is one of the most absorbent fabrics and quite flexible, making it an excellent choice for garments. Another great thing about Silk is its breathability. This is also hypoallergenic, which keeps dust mites, moulds and bacteria away. So, don't worry about it, and buy tussar silk stoles right away!
How Can I Keep My Silk Garments Looking Afresh?
Despite our best efforts, accidents and stains can happen to the best of us. There's no need to panic if you experience a little embarrassing dining mishap. There are actions you may take to stop the stain from absorbing more of the fibers, increasing the likelihood that the stain will be completely removed. When something like that happens, do your best to deal with the stain as soon as you can since the sooner you can take care of it, the more likely you are to keep the cloth.
Are there any care instructions for silk?
If you buy Tussar silk stoles, here are some instructions which you must follow: 
Do not use bleach or tumble dry 

As silk dries superfast, you can line-dry it 

After washing, you can use a medium-heat iron to iron it 

Dry cleaning is always advisable

Make sure to keep your silk garments away from jewellery items and accessories to snag the fabric. 
If this luxurious garment interests you, Silk Ruute is your ideal destination. We have an immensely elegant collection of silk stoles crafted from Tussar Silk. To accentuate your beautiful wardrobe, bring home our opulent handcrafted pure silk stoles.