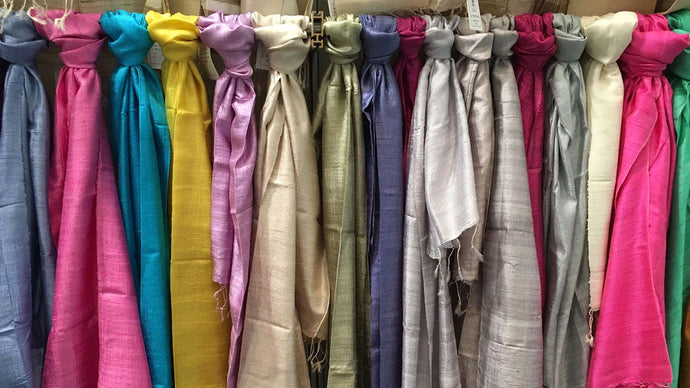 Why is Silk an Ideal Material for Stoles and Scarves?
Silk has held the unrivalled title of the Queen of Textiles for over 4000 years. The word 'silk' when said, flashes images of luster, shine, and vibrance in our mind. Owing to its magnificent appearance, one can understand why silk is considered so royal and exquisite. Delicate, luxurious and majestic are some of the adjectives that we can associate with this prized fabric. However, what used to be a high-valued commodity reserved only for royalty, is now used for a variety of clothing and fashion accessories. Stoles and scarves, in particular, are crafted from silk due to its unique properties. Curious why stoles and scarves are made from silk? Here's why!
Light as a Feather 
One of the reasons why silk and scarves are an ideal match is because of its weight. Silk stoles and scarves are light enough to offer unbeatable comfort but have just enough weight to add dimension to any outfit. 
The beauty of this fabric is that it doesn't wrinkle and also doesn't take too much of your space. So, if you are heading on vacation, you can have as many stoles and scarves as you like to compliment your outfits without having to worry about any extra weight. 
A Perfect Partner for Summers 
Silk is a breathable fabric. It is thin and airy, which keeps you cool during summer. If you are searching for an accessory which will not only enhance your outfit but also protect you from the scorching sun, a silk stole serves the purpose just right. 
Being so thin, silk is also a very good absorbent which makes it all the more perfect for summers to keep the sweat away while keeping you cool and breezy! But that isn't all. While it is an excellent choice for summers, silk is an impressive winter fabric as well. Silk's tight weave helps in keeping you warm in chilly winters. Thus, silk is your best bet for all seasons. 
Vibrance and Unmatched Beauty 
The unique sheen and lustre of silk is what captures the eye. It is a versatile fabric that adds vibrancy and glamour to any outfit. While this is not the only quality of silk, it is one of the reasons why it is so popular among women. 
Silk stoles and scarves accentuate the overall elegance of anything you wear them with. There is no other fabric that is as luxurious and cherished as silk!
In addition to the above-mentioned points, silk has many other benefits, which make it an ideal material for stoles and scarves. Its durability, strength, hypoallergenic qualities, and numerous other properties make it so revered today. Not just that, silk being a recyclable fabric, it has a very meagre environmental impact. If you admire silk stoles, Silk Ruute has the perfect collection for you. Please browse through our exclusive collection of stoles crafted meticulously by the craftsmen of Bhagalpur. Grace yourself with gorgeous and exquisite handwoven Tussar and blended silk stoles from Silk Ruute.