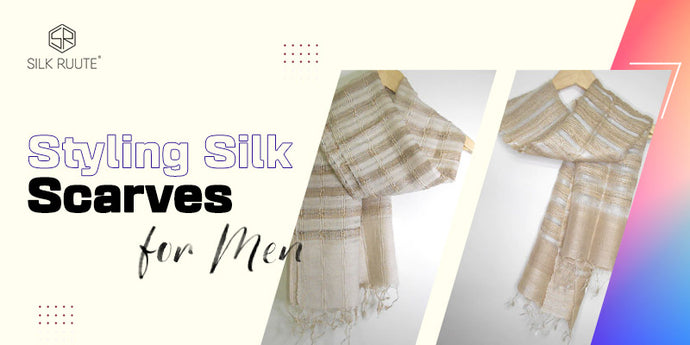 Styling Silk Scarves for Men
From Dev Anand to Rajesh Khanna and from Shahrukh Khan to Ranbir Kapoor, scarves have always been in fashion, embracing the style statement of all the leading stars in Bollywood. If you have also been fascinated by everything in vogue but are too bad at styling yourself, here is a blog for novices like you. If you are a fashion enthusiast but need to learn how to begin, we are here to pull you out of that fix. 
Look at some of the styling tips that can make your everyday outfit appear straight out of a fashion magazine. 
Play with Neutral Tones 
You can buy silk scarf online in any of the neutral tones of your choice and team it up with a sweater and don the look you like. Black, brown, and greys are the safest colours, as there are endless possibilities for styling with these colours. These work well with prints as well as plain colours. 
Style Unique Layers 
If you have a unique coloured coat or blazer, you can add zing to your entire look by adding a printed silk scarf. Add basic chinos, a plain t-shirt and subtle accessories that accentuate your look multiple times. The accessories will help elevate your blazer/coat and add style to your whole look. 
Solid Colours make Solid Style 
Pick a colour that will not only look good with your skin tone but also flows naturally with the outfit. If you are a fan of darker shades, a pop of colours will do wonders for your OOTD. A magenta or lime green scarf can enhance your whole look and top it up a few notches. If that is too flashy for you, you can even go for earthy tones and pull on a cooler and elegant look. You can buy mens silk scarves in India and elevate your fashion statement. 
Elegance with Traditional Attire 
While there is always room for trench coats and Chesterfield coats, the elegance of traditional Indian wear cannot be matched. If you have an upcoming function where you will carry your Kurta or achkan, a silk scarf can turn out to be a great addition to enhancing your look.
Pick a silk scarf that goes with your attire, and get ready to garner compliments about your fascinating outfit choice. 
This blog is a humble attempt to help you style better and look presentable by adding a silk scarf to your everyday outfits.
We have a collection of silk stoles and scarves that can elevate your style and add bling to your existing wardrobe. Discover the best range of silk scarves and stoles by visiting Silk Ruute. To buy mens silk scarves in India, explore our range of scarves online. 
Similar Blog: Digital Printing on Silk Scarves