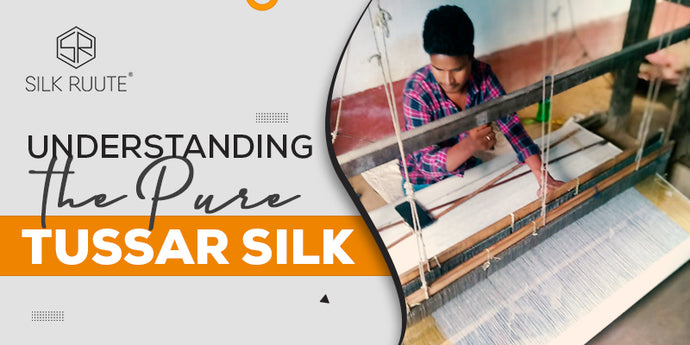 Understanding the Pure Tussar Silk
India has forever been blessed with a rich variety of natural fibres that reflect its composite tradition. You would be surprised to know that India is also home to some of the finest fabrics around the globe. Among the various types of silk, Tussar is one of the most renowned forms of silk to come out of India. This has made Tussar silk an essential in every woman's wardrobe today. 
Tussar silk is also known to be Kosa silk which is a derivative of its Sanskrit word. Bihar, Jharkhand, and West Bengal are the states where Tussar silk is majorly produced in India. This fabric is highly valued for its luxurious texture and authentic golden hue. Tussar silks have been widely used to create kurtas, shirts, scarves, stoles, and dupattas, in addition to the gorgeous traditional silk saree. Today, you can even buy pure silk stoles for women and witness fine craftsmanship.
Origin of Tussar Silk
Many tribal people who live in the eastern portion of India have a natural ability for the age-old craft of making silk. They are adept at this craft and are committed to providing silks of the highest calibre. The silks that you see at the market are crafted with a lot of time, effort, and hard work.
Tussar silk has a long history that dates back to the Middle Ages. Despite the fact that tussar is currently produced across the nation, Jharkhand remains the main region for the production of tussar silk.
The manufacture of tussar silk is concentrated in the Kharaswa area of Jharkhand and involves thousands of expert tribal weavers. In some tribes, the art of sericulture has been passed down through multiple generations.
What emerged from the tribal lands is now doing rounds around the country with silk clusters in so many states, most prominently in similiar blog Bhagalpur, Bihar. With so many leading online shopping brands, you can now buy handwoven tussar silk stoles at the convenience of your home.
How is Tussar Silk Made?
Silkworms that feed on the leaves of the Saja, Arjun, and Sal trees produce tussar silk. It also goes by the name "wild silk." Antheraea mylitta silk moths are used to produce tussar silk. Due to the round markings on the moths, they resemble mirrors. These silk moths naturally generate threads that are gold in colour when they are boiled.
The oval, single-shelled silk moth cocoons are shaped like a shell. The cocoons must be boiled in order to soften them, which is an essential step in the production of silk. Additionally, this makes it simpler to remove the silk.
Silk Ruute – Bringing Traditional Tussar Silk to Your Wardrobe
Silk Ruute is one of the leading silk brands that originated from the land of Bhagalpur, bringing silk scarves and stoles made from Tussar silk. If you wish to make this royal fabric a part of your everyday wear, buy handwoven tussar silk stoles from our online store. Check our collection to find complementing silk stoles for yourself.
Similiar Blog: Everything About the Silk Legacy of Bhagalpur
Best Regards
For, Silk Ruute
Gaurav Sandilya
Proprietor