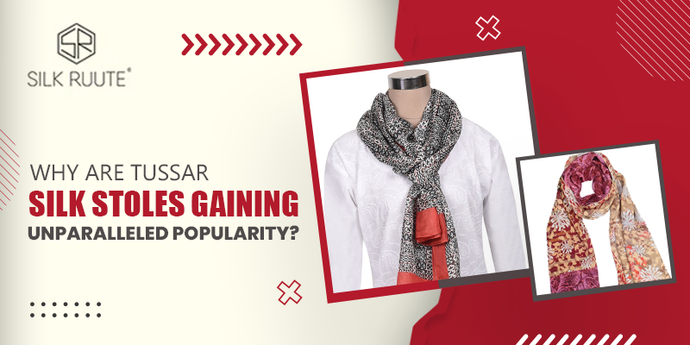 Why are Tussar Silk Stoles Gaining Unparalleled Popularity?
Silk is inevitably one of the most gorgeous and magnificent fabrics ever made. The shine and the lustre of this beautiful fabric make everyone its fan. Whether it is a silk saree, we talk about or a silk stole, the magnificence of this fabric is undeniable. While silk has been a favourite of royals since time immemorial, it is gathering modern popularity as well. And even though it was just sarees where we saw the exclusive use of silk fabric, today, there is a variety of garments and accessories being made out of this majestic fabric.
Tussar silk is one of the common silk variants that have been doing rounds in the markets. It has a distinct texture and is quite heavier than the regular silk fabric, but that doesn't stop people from liking it. As this adds a natural hue to your outfits and accessories, it is gaining popularity among both rural and urban locales.
What exactly is Tussar Silk?
The larvae of silkworms belonging to the moth genus Antheraea are the source of tussar silk, also known as Kosa silk. Only the Sal, Arjun, and Saja trees, which are usually found in untamed forests, are used for breeding these silkworms.
Consequently, Tussarsilk is often referred to as "wild silk." These silk moths naturally create golden-hued threads when they are boiled. The most important stage of producing silk is boiling the silkworms' cocoons. After the larvae have emerged from the cocoons, some tribal cultures boil them. The silk created from these cocoons is known as "Ahimsa silk.
The Unparalleled Uniqueness of Tussar Silk 
The fascinating aspect of tussar silk is that it is one of a kind. These are comparatively more affordable than mulberry silk garments.  
Fabrics made of tussar silk are porous by nature, which makes them incredibly comfortable to wear in warm conditions. Tussar silk stoles are portable, lightweight, and easy to carry.
Tussar silk has weaker fibres because it grows in shorter lengths. As a result, they require regular maintenance. Always dry clean them for the best preservation of this luxurious fabric. To allow the fabric to breathe, keep your Tussar silk accessories, such as stoles and scarves, in muslin bags.
Tussar silk provides a naturally golden tint to all scarves and stoles. Thanks to the fabric's shimmering structure, you will stand out in a crowd, which causes it to reflect various hues at different angles. It is a perfect companion for all kinds of occasions.
Silk Ruute is one of the leading exporters of silk accessories. If you wish to accentuate your wardrobe with beautiful silk scarves and stoles, you can check out our collection. Buy tussar silk stoles at affordable prices from Silk Ruute!
Similar Blog: Everything About the Silk Legacy of Bhagalpur